I have been interested in photography since I was a teenager. At various times I have done weddings, product photography, portraits, events, and sports teams. I make my living as a computer programmer.
Photography is an interesting combination of art and science. I get a lot of technical help from several excellent photographers. The best advice on art came from a well known photographer who stabbed me in the chest with her finger and said "Photograph from your heart, then just swish it around a bit in the chemicals. Don't worry about the technical." It's still too easy for me to become mired in the process. A technically perfect photo without substance is a perfect nothing.
My goal is to make photographs that speak to me. It would be nice if they spoke to someone else, too.
Artist's Statement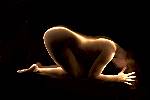 Photography is all about light. For many years I did traditional photography-- adjust the lights, adjust the model, adjust the backdrop, adjust the camera, release the shutter. One day a friend suggested I try some more exciting lighting. It came to me that I could really control the light if I applied it like a painter applies paint. The results surprised me in many ways.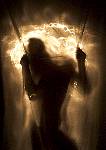 One surprise was how it changed the way I think about photographs. No longer am I worried about the distractions in the background, or foreground for that matter, I simply don't light what I don't want in the picture.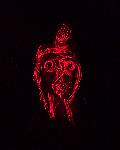 Another surprise is the number of variables involved. The light source, distance from the camera to the model, distance from the light source to the model, speed of movement, direction of movement, etc. all impact the results. It's fascinating to take an idea for a shot and let it lead me, often in an entirely different direction, as I see things in each exposure I want to pursue.